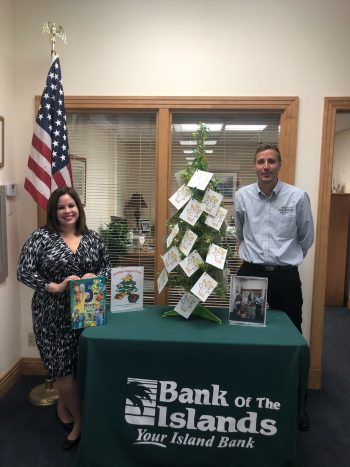 Holiday Help at Bank of the Islands
Bank of the Islands is asking their customers and island neighbors to contribute unwrapped Christmas gifts for needy children in our community. All islanders are invited to choose an ornament from the Angel Tree available now in the bank's Sanibel lobby. Each ornament will indicate the age of a boy or girl hoping to receive a gift this holiday season.
"We're so happy to be partnering again with Friends Who Care on this special holiday gift drive," said Bank of the Islands V.P. and Sanibel/Captiva Office Manager Willy Ocasio.  "They have been quietly helping neighbors in need for more than 30 years."
Friends Who Care must complete the gift-wrapping of collected gifts before Christmas. Bank of the Islands invites customers and neighbors to drop off their unwrapped gifts to the Sanibel bank lobby at 1699 Periwinkle Way any time through Tuesday, December 17. For more information, please call 472-7211.
Bank of the Islands, a name synonymous with island community banking since 1974, is located at 1699 Periwinkle Way, at the corner of Casa Ybel Road, on Sanibel. The Captiva office is at 14812 Captiva Drive, next to the Captiva Post Office. As the oldest locally owned and managed community bank on the islands, Bank of the Islands is proud to be the winner of 44 "Best of the Islands" awards since 1999, including being chosen the Best Island Bank for 21 years straight.