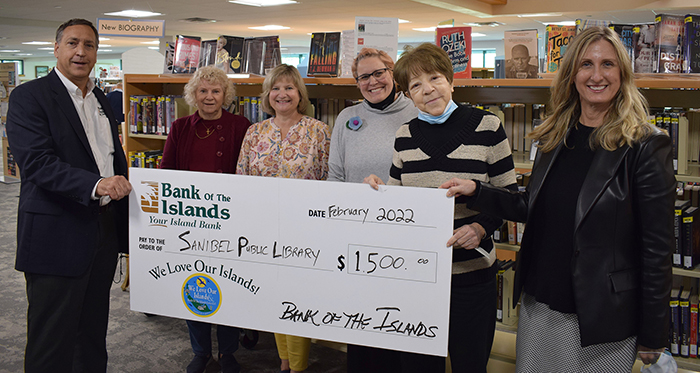 Bank of the Islands gives to Library Author Series
Bank of the Islands has donated $1,500.00 in support of the Sanibel Public Library's 2021-2022 Author Series.
"The Sanibel Public Library Foundation's Author Series ensures the library can provide enriched and enhanced services," said Bank of the Islands Vice President David Lowden. "We are blessed to have one of Florida's top-ranked libraries right here on Sanibel. It's an award-winning institution we are honored to support. This donation is a great way to show how much we appreciate being your island bank."
Funds raised from donors to the Sanibel Public Library Foundation augment public funding and grants secured by the Library's staff.
"Bank of the Islands has been a much appreciated and long-time supporter of the Author Series," said Margaret Mohundro, the Library's Executive Director. "During its 14-year run, the Author Series has brought in internationally bestselling and award-winning authors such as Joyce Carol Oates, Clive Cussler, Lisa Scottoline, Paul Theroux, Robert Massie, Margaret Atwood, Amor Towles, David Baldacci, and many more. That would not have been possible without the support of sponsors like Bank of the Islands."
The 2022 Author Series features Elin Hilderbrand, Marie Benedict, and Scott Turow. To learn more visit www.sanlib.org or call 239-472-2483.
Bank of the Islands, a name synonymous with island community banking since 1974, is located at the corner of Periwinkle Way and Casa Ybel Road on Sanibel. Its Captiva office is located at 14812 Captiva Drive next to the US Post Office. As the oldest locally owned and managed community bank on the islands, Bank of the Islands is proud to be the winner of 50 "Best of the Islands" awards, including being chosen the Best Island Bank for 23 years straight.