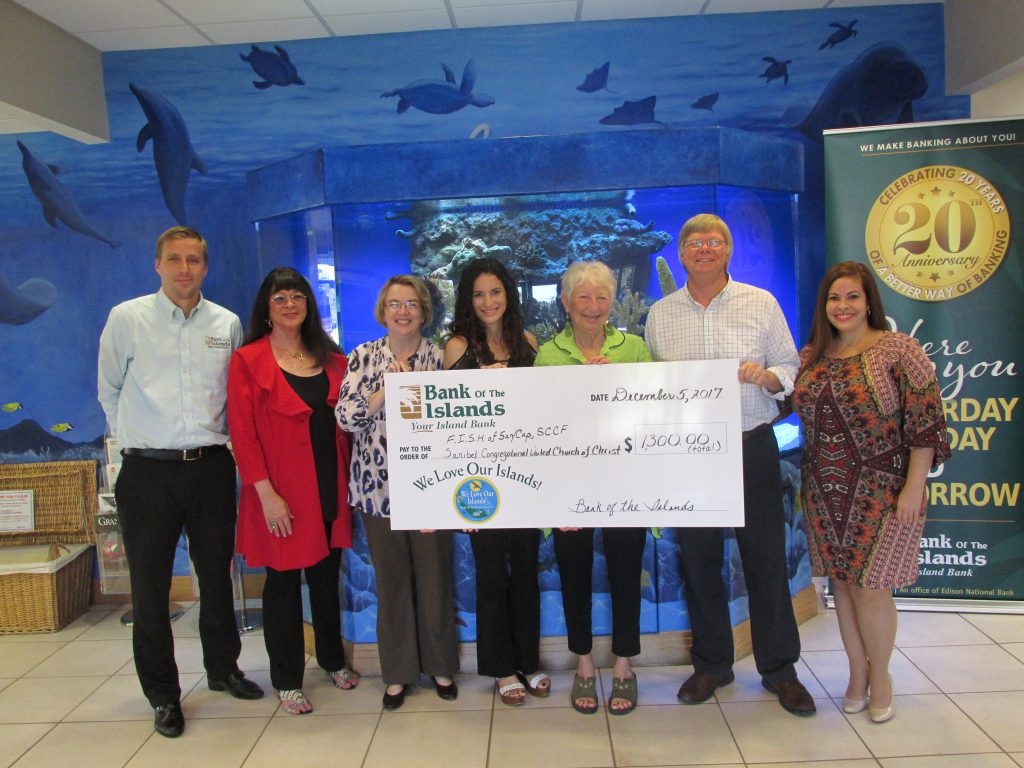 Bank of the Islands gives $1300 to Island Groups
December 5, 2017
Bank of the Islands recently made its latest non-profit donations through its "We Love Our Islands" program. The lucky winner, bank customer Judith Maurer, was spotted with a "We Love Our Islands" decal on her vehicle, winning her the right to select which local non-profit group would receive a charitable contribution from Bank of the Islands. Maurer chose to donate her winnings among three island groups. She directed $500 to SCCF, $700 to Sanibel Congregational United Church of Christ (specifically the Sanibel Christian Preschool) and $100 to FISH of San/Cap. Those donations mark $76,000 given away to date through Bank of the Islands' We Love Our Islands program to date.
"We are so happy to present these donations at Ms. Maurer's suggestion," said Willy Ocasio, Bank of the Islands' Assistant Vice President and Sanibel-Captiva Office Manager. "With so many worthwhile non-profits making our islands so special, we can see how she chose to split her winnings among all three. Helping SCCF, F.I.S.H. and the Sanibel Christian Preschool is such a great way to show how much we appreciate being your island bank!"
All islanders are invited to stop by the Bank's Sanibel and Captiva offices to get a free "We Love Our Islands" decal and details on how you and your favorite charity can become our next lucky winners.
Bank of the Islands, a name synonymous with island community banking since 1974, is located at 1699 Periwinkle Way, at the corner of Casa Ybel Road, on Sanibel. The Captiva office is at 14812 Captiva Drive, next to the Captiva Post Office. As the oldest locally owned and managed community bank on the islands, Bank of the Islands is proud to be the winner of 38 "Best of the Islands" awards since 1999, including being chosen the Best Island Bank for 19 years straight.