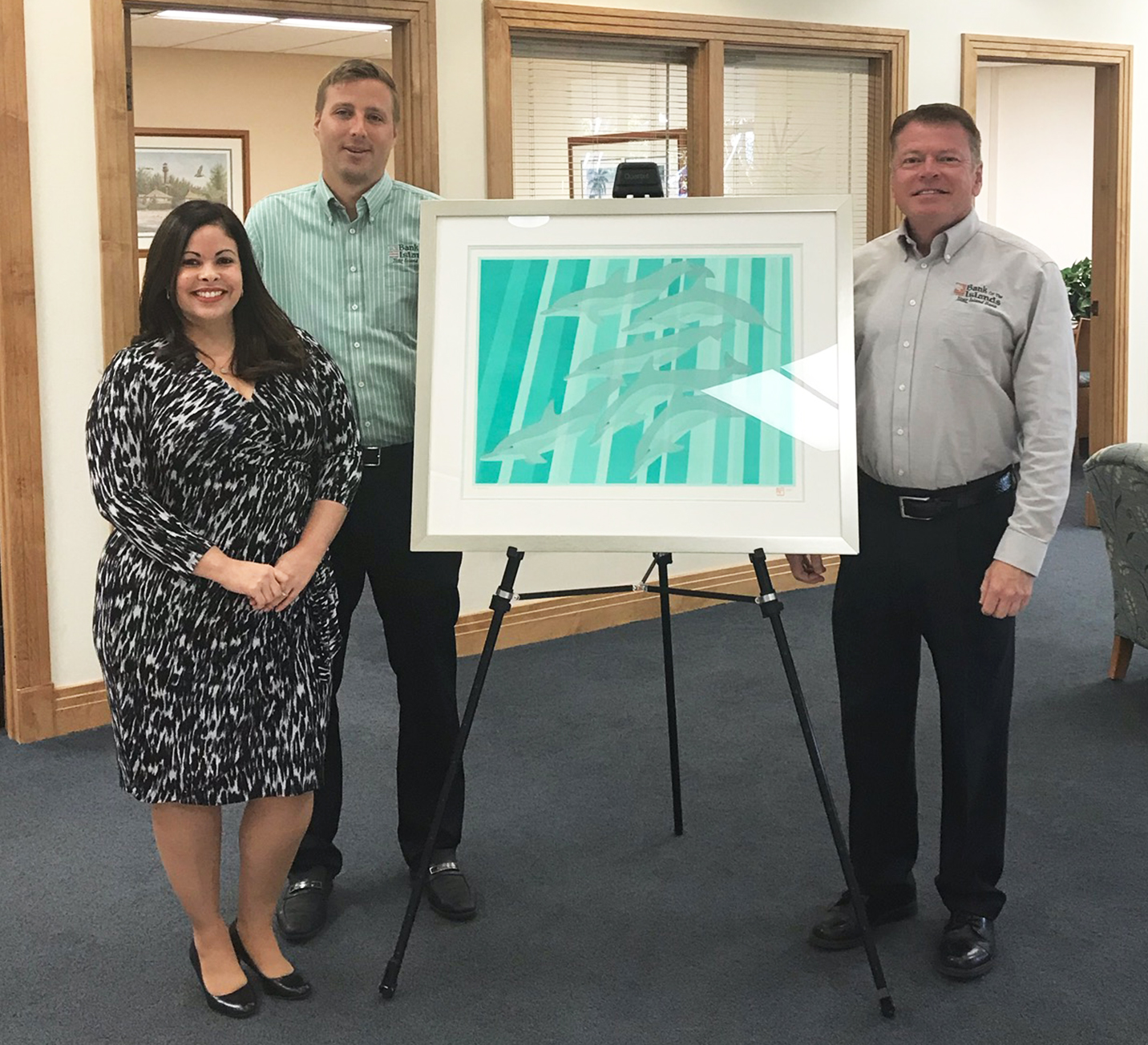 Bank of the Islands Promotes SCCF Art Drawing
Art lovers are encouraged to stop by Bank of the Islands' Sanibel Office to view a signed limited print of the late Ikki Matsumoto's "Six Dolphins". Matsumoto has been recognized posthumously as the 2018-2019 Prize Recipient for the SCCF "Ding" Darling Brush of Excellence Environmental Art Program. It will be on display at the bank through March 14, and will then travel to the Lions Club Arts & Crafts Fair at the Sanibel Community House on March 15 and 16.
"We want to help promote that proceeds from this Brush of Excellence drawing support SCCF's educational programs," said Willy Ocasio, Bank of the Islands Vice President and Sanibel-Captiva Office Manager. "Providing our lobby to showcase this beautiful piece, and the opportunity to win it, is a great way to show how much we appreciate being your island bank!"
Initiated in 2015, the SCCF "Ding" Darling Brush of Excellence Environmental Art Program provides a continuing tribute to J.N. "Ding" Darling's legacy and an annually renewing recognition of environmental artists following in Darling's footsteps. SCCF is deeply committed to honoring and keeping alive Darling's memory as finding new and innovative ways to carry on his legacy. The SCCF "Ding" Darling Brush of Excellence Environmental Art Program is an important way to fulfill that commitment.
Drawing tickets to win this piece will be sold through April 19 before the April 22 drawing at SCCF's Earth Day Presentation. They are $10 each and three for $25. You do not need to be present to win.
Bank of the Islands, a name synonymous with island community banking since 1974, is located at 1699 Periwinkle Way, at the corner of Casa Ybel Road, on Sanibel. The Captiva office is at 14812 Captiva Drive, next to the Captiva Post Office. As the oldest locally owned and managed community bank on the islands, Bank of the Islands is proud to be the winner of 41 "Best of the Islands" awards since 1999, including being chosen the Best Island Bank for 20 years straight.
SCCF (the Sanibel-Captiva Conservation Foundation) is dedicated to the conservation of coastal habitats and aquatic resources on Sanibel and Captiva and in the surrounding watershed.