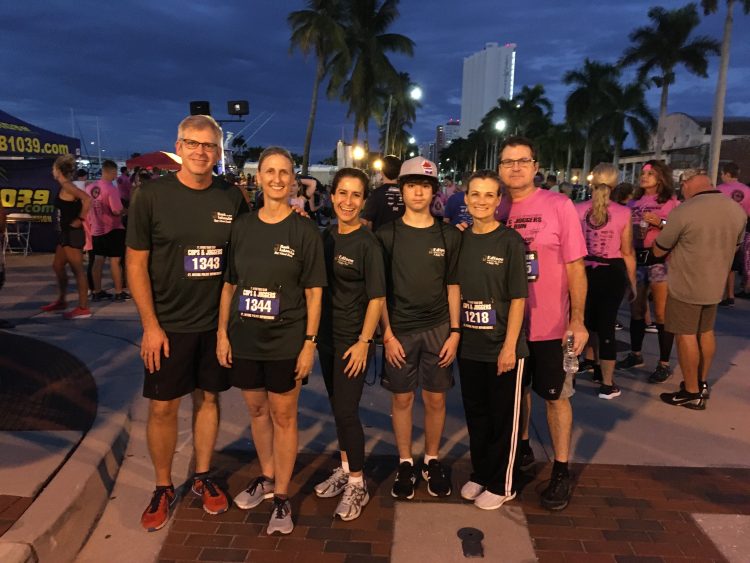 Edison National Bank Sponsors Cops & Joggers – Bankers Join in 5K Race
Edison National Bankers and their families took part in the Twelfth Annual Cops & Joggers 5K Race as runners and walkers on October 12, 2019. The bank was also a sponsor for the event and provided water for its participants. With the glow of Fort Myers Police Department's emergency lights illuminating the course, the 3.1 mile night race follows a scenic circular route along the river in historic downtown Fort Myers, crossing over and back on the Edison Bridge. .
"There aren't enough words to convey our gratitude to local law enforcement officers and their families. They sacrifice so much for our safety," said Bank President Robbie Roepstorff. "We were so happy to help make Cops & Joggers a fundraising success again this year."
Proceeds from this event will benefit the Fort Myers Police Department Fallen Officer Memorial Foundation, which aids injured and fallen officers and their families, and the Brotherhood Ride, honoring fallen police officers and firefighters.
"It was so great to have some of our bankers and their families in the race," said Roepstorff. "We all believe so strongly in helping to make our community a special place. Supporting our brave law enforcement officers is so important to all of us in the Edison family."
Edison National Bank is Lee County's oldest locally owned and managed community bank, serving individuals and business owners with offices in Fort Myers, as well as the Bank of the Islands offices on Sanibel and Captiva. Founded in 1997, Edison National Bank is strongly rooted in the community and actively supports civic and charitable causes through both donations and volunteerism. For more information, call (239) 466-1800.