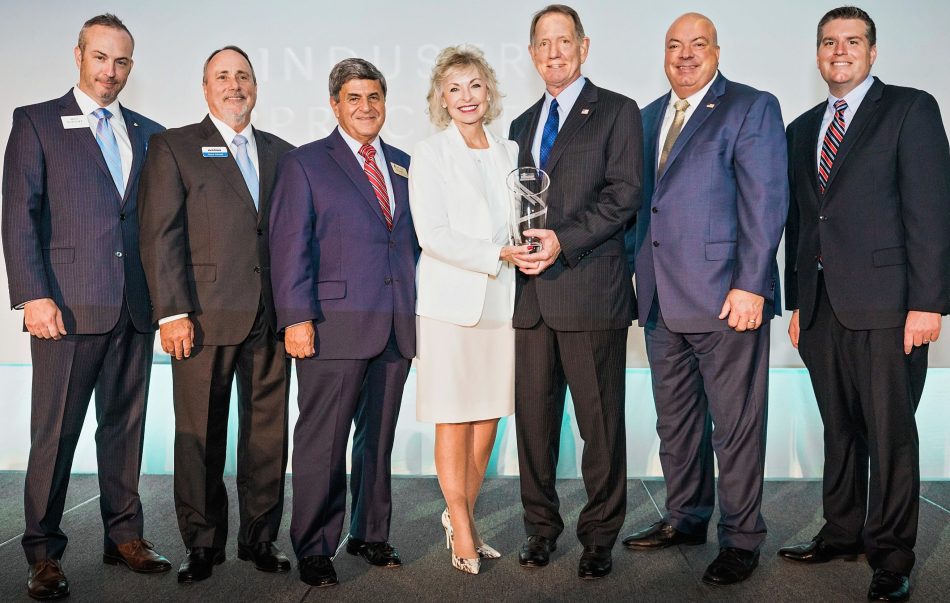 Edison National Bank/Bank of the Islands receives 2019 Industry Appreciation Award
Edison National Bank/Bank of the Islands was recognized with a 2019 Industry Appreciation Award during an awards luncheon on October 25 at the Hyatt Regency Coconut Point in Estero, Florida today. The Horizon Council, Horizon Foundation, and the Lee County Economic Development Office celebrate local business contributions through this annual event.
The bank was recognized as the Small Business of the Year. The selection criteria for the award seeks to honor a company with up to 50 employees that has been in business a minimum of six years in Lee County and has been successful in offering high-quality products and services along with superior customer service.
In a prepared statement, the program organizers shared the winners were chosen for "their innovation, integrity, product quality, community commitments and overall excellence in business and value to Lee County."
The award was accepted by the bank's President, Robbie Roepstorff, and its CEO, Geoffrey W. Roepstorff. They attended the event with staff members from the bank's four Lee County offices.
"We are humbled to receive this recognition, said Mr. Roepstorff. "Looking back on more than two decades of service, we feel we have a great perspective on where we have been and where we are going as a community bank. As Lee County continues to grow, the businesses and families choosing to be here will need banking services like ours. We're constantly innovating, always working to find a better way to serve our customers and our community. We'll be here for all of them, for many years to come."
About the Industry Appreciation Awards program organizers:
The Horizon Council is a public-private board established in 1991 to advise the Lee County Board of Commissioners on economic development issues.
The Lee County Economic Development Office works to attract businesses and improve the business environment in Lee. For information, call 239-533-6800.
About Edison National Bank/Bank of the Islands:
Edison National Bank/Bank of the Islands is Lee County's oldest locally owned and managed community bank. It serves individuals and business owners from two offices in Fort Myers, the Bank of the Islands offices on Sanibel and Captiva in addition to a well-established courier service for business clients.  Founded in 1997, Edison National Bank/Bank of the Islands is strongly rooted in the community and actively supports civic and charitable causes through both donations and volunteerism. The Bank of the Islands offices have been chosen the Best Island Bank for 21 years straight and voted the winner of multiple other awards for a total of 44 "Best of the Islands" awards since 1999. For more information, call (239) 466-1800.