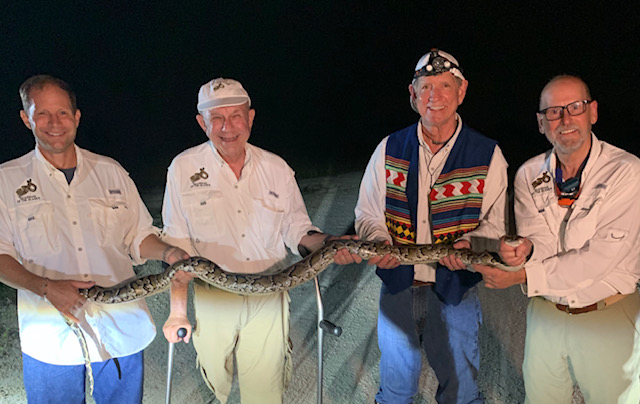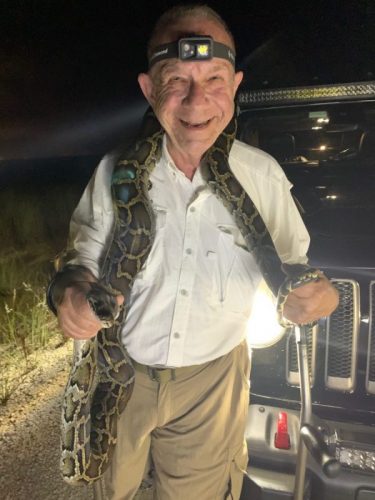 Local Business Leaders Hunt Python with SFWMD Chair Goss
Lee County businessmen Tom Uhler and Steve Pontius joined South Florida Water Management District (SFWMD) board chair Chauncey Goss and District python hunter Geoff Roepstorff on a weekend python hunt in early November. They successfully removed yet another invasive python from the Everglades.
"This group of environmentally sensitive friends removed the 2,675th python under our District python removal program," said SFWMD Project Manager Mike Kirkland.
When not python hunting, Uhler is founder of Uhler and Vertich Financial Planners, LLC, Pontius is Executive Vice President of Waterman Broadcasting, and Roepstorff is CEO of Edison National Bank.
This was not the first python hunt for this group. Uhler, Pontius and Goss joined Roepstorff in August. Two invasive snakes caught on that hunt were the 2,345th and 2,346th pythons removed by 25 SFWMD hunters in just over two years.
"Governor DeSantis has been a great supporter of the Everglades, both in water quality issues and invasive species issues," said Goss. "District python hunters like Geoff Roepstorff are a highly experienced group. Their success in taking pythons out of the Everglades is unprecedented. They're trying to make a real difference for the native species now threatened in their Everglades habitat by these predator pythons."