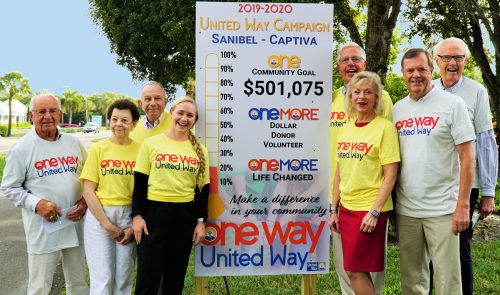 United Way Kicks Off its San-Cap Campaign
Local United Way Campaign Chair Tony Lapi  gathered at Bank of the Islands with some of his committee to kick off this year's fundraising campaign. He is joined in leading this effort by Steering Committee members Allison and Chauncey Goss,  Bill Fellows, Calli Johnson,  Gaye and Jim Pigott,  Robbie and Geoff Roepstorff,  Lucy and Paul Roth,  Linda and Tom Uhler,  Penny Wilkinson, and Judie Zimomra. It is their goal to raise $501,075 in support from their fellow islanders during the 2019-2020 season.
Leadership Giving is about people helping people at every stage of their lives. While many charities address one cause, United Way focuses more broadly, identifying and then directing donations to the most critical needs in our community. United Way also collaborates with local agencies and organizations to find the most effective and efficient solutions to local human service issues.
To learn more about the many ways you can give, call 239-433-2000 or visit www.UnitedWayLee.org.