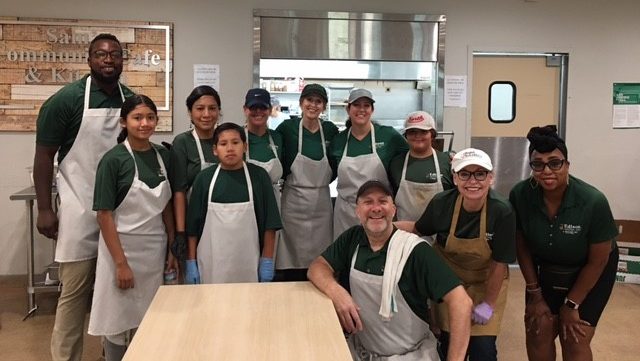 Bankers Recognize Juneteenth with Community Service
The Edison National Bank/Bank of the Islands staff recently put the new federal holiday to good use.
Our bank offices were closed on Monday, June 20 in celebration of Juneteenth. Led by Bank President Robbie Roepstorff, a team of staff volunteers spent Juneteenth working at Everyday Café in Fort Myers.
"As community bankers, we feel strongly about caring for our neighbors in need," said Roepstorff. "The number of diners at Everyday Café increases in the summer months just as their regular volunteer hours show seasonal decline. We were honored to give a day of service to such a worthwhile organization."
The CCI Everyday Café, formerly known as the Soup Kitchen, is run by Community Cooperative, Inc. Its mission is to provide a stable, dignified, and healthy way for the homeless in our community to receive nutritious meals.
The Edison National Bank/Bank of the Islands volunteer team on Juneteenth included: Robbie Roepstorff, Kim Nyberg, Liz Aurensan, Debbie McLean, Pam Edwards, Aries Edwards, Andrea Pastaza, Richard Shera, Michele Reed, John Ammons and their family and friends.
The Everyday Café is located at 3429 Martin Luther King Blvd. in Fort Myers. To learn about ways you can help through volunteering or donations, please call 239-332-7687 or visit www.communitycooperative.com.