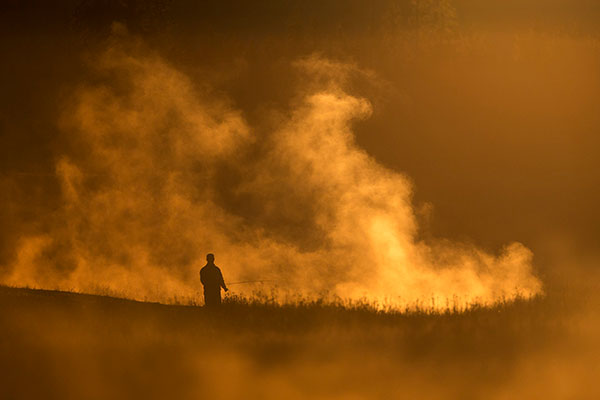 Dr. Sheridan – Nature's Best Photography
Dr. Howard Sheridan, a founder of Edison National Bank and chairman of its holding company, Edison Bancshares, Inc., has received recognition in Nature's Best Photography magazine for his photo submission to the 2015 Yellowstone Forever photography competition. His photograph, "Fisherman in the Mist," is currently featured in the 2016 Spring/Summer edition of Nature's Best Photography.
Nature's Best Photography print magazine is a large format, award winning, showcase of nature as recorded by the world's leading professional photographers, naturalists, adventurers, as well as new, emerging photographers. The 2015 Yellowstone Forever photography competition was presented by the magazine and the Yellowstone Park Foundation. The inaugural competition invited photographers to submit a portfolio of photographs. Out of 9,000 photographers, Dr. Sheridan's photo, which features a silhouette of a fisherman surrounded by fog, was selected as a Highly Honored image and featured in Nature's Best Photography Magazine. Two of Sheridan's other photos also received honorable mention in the contest.
This is not the first photographic award for Sheridan and his photos have been published in National Geographic, Alaska, Island Scene, National Wildlife and Montana magazines as well as in several children's books.
Dr. Sheridan is a founder and retired CEO of Radiology Regional Center and a co-founder and former chairman of the board of 21st Century Oncology. He currently serves as Chairman of the Tulane University Medical School Board of Governors and is a co-founder and vice president of 21st Century C.A.R.E., a nonprofit charity that assists cancer patients and promotes cancer research and education.
Edison National Bank is the oldest locally owned and operated community bank in Lee County. The bank offers a wide range of services and accounts for business customers, nonprofit organizations and individuals of all ages. Edison National Bank offices are located at 13000 S. Cleveland Avenue in South Fort Myers and at 2105 First Street in the downtown River District of Fort Myers. Edison National Bank also operates Bank of the Islands at 1699 Periwinkle Way on Sanibel Island and 14812 Captiva Drive on Captiva Island.