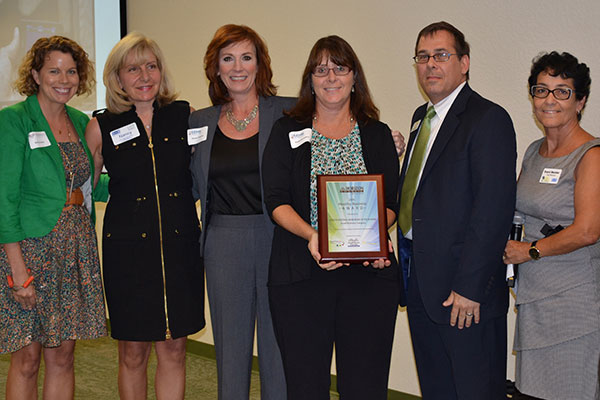 Healthy Workplace Award 2015
Edison National Bank/Bank of the Islands recently received the 2015 Horizon Council Healthy Business Award in the Small Business category at the Lee County Wellness Summit.
The bank was honored for its long-term comprehensive commitment to workplace wellness, which formally began in 2007. The company budgets up to $20,000 annually to fund incentives and opportunities designed to support employee wellness. Currently 97 percent of employees are participating in the program.
"The best thing about our wellness program is the results we see," says Robbie Roepstorff, president of Edison National Bank/Bank of the Islands. "We started the program because we have a vested interest in our employees' health. It's about so much more than increasing productivity and reducing sick days. We have seen employees turn their health around with this program and maintain healthy lifestyles because they have the support system they need to do it. In many cases, there is a ripple effect, and the results also impact that person's family and personal life, making the whole family healthier. It's a wonderful thing to see and something we all as a team find very gratifying."
This is the bank's third major recognition for its employee wellness program. In 2012, the bank achieved the American Heart Association's Fit-Friendly Worksite Award at the Platinum and Gold Levels, and again in 2013 and 2014.
In total, three companies received the 2015 Horizon Council Healthy Business Award and were recognized for demonstrating an outstanding commitment to employee wellness. The awards for Mid-sized Business and Large Business went to the Housing Authority of the City of Fort Myers and the Lee County Electric Cooperative, respectively.
Over the years, Edison National Bank/Bank of the Islands' "A Better Way to Wellness Program" has provided:
Incentives, reimbursements and other rewards for employees to encourage healthy lifestyles
Employer-sponsored pre- and post-biometric health and body assessments for employees
Memberships at the Wellness Center with fitness coaches
Gym memberships and fitness equipment for employees
Opportunities to participate in organized fitness challenges, competitions and community walks
A tobacco free workplace
Flu vaccination promotions
In-house yoga sessions
Monthly newsletter highlighting health and safety tips
Healthy potlucks
Annual Family Field Day at Lakes Park
Notably, in 2014 Edison National Bank/Bank of the Islands launched its first Fit Bit Challenge for which the bank provided Fit Bits to all employees and offers cash and time-off incentives for individual achievement.
Edison National Bank is the oldest locally owned and operated community bank in Lee County. The bank offers a wide range of services and accounts for business customers, nonprofit organizations and individuals of all ages. Edison National Bank offices are located at 13000 S. Cleveland Avenue in South Fort Myers and at 2105 First Street in the downtown River District of Fort Myers. Edison National Bank also operates Bank of the Islands at 1699 Periwinkle Way on Sanibel Island and 14812 Captiva Drive on Captiva Island.